---
Morten Harket - Vogts Villa (25.11.96)
---
This 10-track Norwegian sung album is only available in Norway and Sweden (NB: The album wasn't released in Sweden until 30th July 1999). It was written by Morten, Håvard Rem and Ole Sverre Olsen and produced by Morten and Kåre Chr. Vestrheim. The musicians featured on the album are Geir Sundstøl on guitar, Kåre Chr. Vestrheim on mellotron, Thomas Tofte on bass and Anders Engen on drums. Elisabeth Moberg on backing vocals and Martin Hedstrøm on guitar contribute on the tracks marked with *. The album was released on Norsk Plateproduksjon AS (a sub-unit of BMG) only in Norway. This album features the Norwegian version of Morten's song "Lay Me Down Tonight" and renamed "Vuggevise".
| | |
| --- | --- |
| The front of the CD booklet features a blue-toned black and white close-up shot of Morten smiling (by Knut Bry). To the left hand side there is a silver embossed drawing of "Vogts Villa". The title is written in white in the top left corner of the sleeve, with Morten's red printed autograph underneath. These titles surrounded by black outlines of rectangles. | |
The embossed picture of "Vogts Villa" continues round to the back of the booklet with a blue toned picture of the inside of one of the rooms of the villa. The 8-paged booklet features three large and three small pictures of Morten. The booklet also features pictures taken on both the inside and outside of the villa. The lyrics are printed in white, inside white outlined rectangles, above some architectural drawings of the villa. The CD tray is clear, through which you can see a picture of a tree taken from underneath, looking upwards. The back insert features a black and white picture of Morten climbing up a tree. The track listing is printed in the bottom right hand corner inside a black outlined rectangle. The `tree picture' continues round to the spine with titles printed in white and red.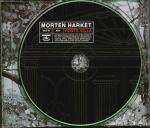 The CD is black with dark grey embossed details of parts of the "Vogts Villa" building. The titles are in white and red, again inside white outlined rectangles and are placed at the top, left of the disc.
This album is again available on cassette, the insert of which is similar to the CD booklet but it does not contain the lyrics. The cassette is transparent.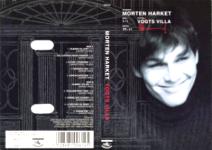 Tracks:
Tilbake Til Livet (4:10) / Jeg Kjenner Ingen Fremtid (5:40) / Herre I Dr¯mmen (4:15) / Fremmed Her* (4:30) / S¯ndag Morgen (3:18) / Gammel Og Vis (4:18) / Taksameteret GÂr (4:28) / Himmelske Danser* (4:16) / Lyser NÂr Du Drar (3:58) / Vuggevise (2:39)
CD
| | | | |
| --- | --- | --- | --- |
| Norway | Vogts Villa | Norsk Plateproduksjon | IDCD 61 |
Cassette
| | | | |
| --- | --- | --- | --- |
| Norway | Vogts Villa | Norsk Plateproduksjon | IDK 61 |
| Next Album | Back to Main |