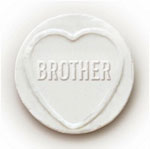 The first release from Morten's album "Brother" is the title track. This one track download only release (4:33) was released in Norway on 18 January and then afterwards made available in other countries. It was available through in the UK around 26 January. The artwork features a picture of a white loveheart sweet with the word "Brother" in embossed white capital letters across the middle.


There is a 1 track UK promo of "Brother" which comes in a vinyl sleeve with a folded paper insert. The front of the insert features the white loveheart picture with "BROTHER" printed on it. The back of the insert has the title "Morten Harket Single: Brother (4.33)" printed at the top with release date of 17th March 2014 below. The blue "Wrasse Records" logo and contact information is below. The disc is white and has similar information to the back sleeve printed on it. The is also a white rectangular sticker with title and release date printed in black on the front of the sleeve.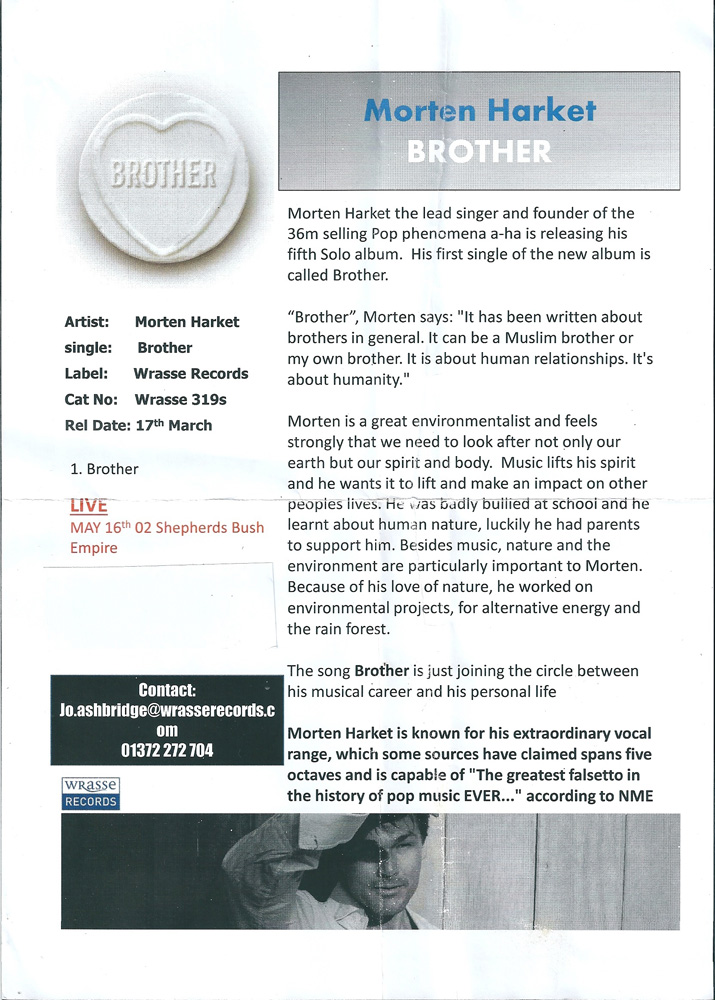 Some copies of the promo come with an additional A4 information sheet containing the single release date, tour date in England, Wrasse Records contact details and some of Morten's personal environmental interests and history. On the copy shown, there is a white sticker covering the text 'Morten is in London on 19th 20th March for promotions' indicating that some of the promotion may have been cancelled.
Variations
---
Germany

There is a two track promo of "Brother" which features the "Radio Edit" (3:47) and the "Album Version" (4:33). It comes in a slimline CD case with s double sided card with the loveheart artwork on one side and text on the reverse which includes track information plus track and distribution information. "mortenharket.com" and "For promotional use only" are printed at the bottom of the back sleeve. The disc is silver with text in black.
| | | | | |
| --- | --- | --- | --- | --- |
| Norway | download | Brother | Universal Music Group | |
| Germany | Promo | Brother | Starwatch Entertainment | / |
| UK | Promo | Brother | Wrasse Records | WRASS319S |

| Next Single | Albums | Menu | Back to Main |