---
Wild Seed Radiospesial (1995)
---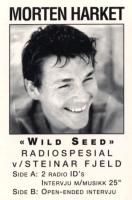 This item is a rare Warner Music Norway radio promo cassette from 1995, "Wild Seed Radiospesial v/Steinar Fjeld". Side A features 2 radio ID's with interview (by Norwegian radio personality Steinar Fjeld) and music. Side B features an open-ended interview with only Morten's responses. The cover is white with a black and white close up shot of Morten smiling. "Morten Harket" is printed in black above the picture with the title and contents information below: Radiospesial v/Steinar Fjeld Side A: 2 Radio ID's Intervju m/musill 25" Size B: Open-ended intervju. The cassette tape is transparent / grey with white text. This release does not have a catalogue number.
Tracks: Side A:
Two different radio ID's by Morten
A Kind Of Christmas Card
Interview (part 1)
Tell Me What You See
Interview (part 2)
Spanish Steps
Interview (part 3)
Ready To Go Home
Side B: The same interview as side A, but only Morten`s answers. Also includes longer and additional answers.
---


| Albums | Menu | Back to Main |