The third promo single "Man In The Park" was released to Norwegian radio stations on 17th February. It features remixes of the two tracks "Man In The Park" and "End Of The Line".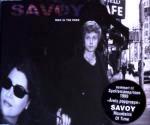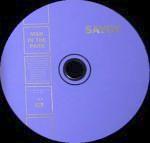 The cover features a black and white photograph of Paul and Lauren taken in a street somewhere. Savoy is printed in the top left hand corner in coloured letters with the title in white underneath. In addition a black, circular sticker which reads "nominert til Spellemannprisen 1999 «Arets popgruppe» SAVOY Mountains Of Time" has been placed on the front of the case.

The disc is a purple colour, of similar design to the "Mountains Of Time" limited edition bonus disc, with silver outlines of boxes and text down the left side and "Savoy" at the top right.

Some editions of the promo also have a white and black promo EMI sticker on the reverse.
CD-Single
| | | | | |
| --- | --- | --- | --- | --- |
| Norway | promo | Man In The Park / End Of The Line | EMI | Savoypromo0100 |

| Next Single | Albums | Menu | Back to Main |