The first single from Savoy's album "Lackluster Me" was released as a promotional only CD-single in Norway. It features a slightly edited version of "Rain" (4:20) and the album track "Butt Out". The single doesn't say anywhere on it that it is a promotional release, so it is thought that it was produced with the intention of releasing it to the shops, but never was.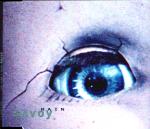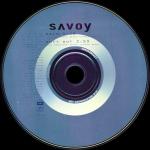 The cover features a close up shot of the left eye of the doll pictured on the cover of the "Lackluster Me" album. "Savoy" is printed in silver letters in the bottom left hand corner with the title in black just above and to the right.
The reverse of the sleeve is a dark blue-black colour. The "Savoy" logo in silver is at the top with the tracks just below and to the left. Next to the track list are four small squares printed in a line down the sleeve which seem to show parts of the iris of the eye on the cover. To the right of these squares are band and production details, printed in silver down the centre.
The disc is silver with a matt look, except for the Savoy logo at the top which has been left shiney. The titles are in black below.
CD-Single
| | | | | |
| --- | --- | --- | --- | --- |
| Norway | promo | Rain / Butt Out | EMI | 7243 8 84698 2 1 |

| Next Single | Albums | Menu | Back to Main |