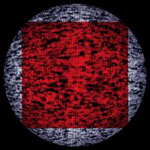 On 11.11.11, Apparatjik released the first issue of their world magazine, an app for iPads with video, pictures and random clips. It also includes the new 12-track album "Square Peg In A Round Hole". It was also made available to all fans who planted a tree for their greneryouniverse campaign.
The cover artwork is black with a white and black speckled circle with a red translucent square over the top of the circle.
Tracks: Time Police (3:20) / Sequential (3:15) / Your Voice Needs Subtitles (4:03) / Signs of Waking (3:34) / Pakt (1:25) / Combat Disco Music (3:41) / Do It Myself (3:07) / .,,. (Dot Comma Comma Dot) (5:13) / (Don't Eat The Whole) Banana (3:22) / Gzmo (4:14) / Super-positions (1:30) / Control Park (3:51)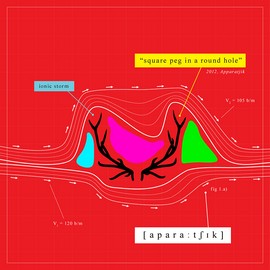 A new version of the album with remixed and new tracks was produced. On 24 January 2012, Apparatjik offered their album in 24-bit flac for download in collaboration with Bowers and Wilkins and Society of Sound.
On 21 February 2012, this remixed edition of the the album was released for download and on CD with new artwork. The UK edition of the CD comes in a fold-out digi-pak with a red art sleeve with what looks like antlers in the centre with some coloured blue, pink and green shapes around. The title is printed on a yellow strip at the top with Apparatjik in a unique font on a white strip towards the bottom. The inside of the digi-pak is white with some mathematical looking illustrations and graphs with names of people and track information printed ina very abstract way. The disc features the black drawn antlers on top of a Christmas bauble with some abstract contour type lines surrounding it. There is also the album title, Apparatjik, manufacturing and copyright information printed, following the contours. The album has a different track listing and features new mixes (tracks 1, 2, 4, 5, 9, 10) and new songs (tracks 3, 6).
Tracks: timepoLice (feat. Auto Goon) (3:21) / cervux seQuential (feat. Lisa A) (4:40) / tell the bAbes (3:53) / signs of waking uP (3:35) / do IT myself (feat. Auto Goon) (3:05) / BlastLOCKet (feat. Ceto A and L Gortex A) (3:45) / pakt (1:24) / COmbat disco music (3:42) / your voice needS SUBtitles (3:51) / (don't Eat The whole) banana (3:27) / gzMO (4:17) / superpositions (1:30) / control Park (3:51)
CD
| | |
| --- | --- |
| Apparatjik - Square Peg In A Round Hole | / |
| Apparatjik - Square Peg In A Round Hole (remix) | MMUN5CD |

| Next release | Menu | Back to Main |