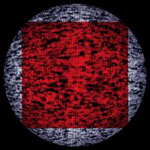 On 11.11.11, Apparatjik released the first issue of their world magazine, an app for iPads with video, pictures and random clips. It also includes the new 12-track album "Square Peg In A Round Hole". It was also made available to all fans who planted a tree for their greneryouniverse campaign.
The cover artwork is black with a white and black speckled circle with a red translucent square over the top of the circle.
Towards the end of January 2012, Apparatjik offered their album in 24-bit flac for download in collaboration with Bowers and Wilkins and Society of Sound.
Tracks: Time Police (3:20) / Sequential (3:15) / Your Voice Needs Subtitles (4:03) / Signs of Waking (3:34) / Pakt (1:25) / Combat Disco (3:41) / Do It Myself (3:07) / .,,. (Dot Comma Comma Dot) (5:13) / (Don't Eat The Whole) Banana (3:22) / Gzmo (4:14) / Super-positions (1:30) / Control Park (3:51)
CD
| | |
| --- | --- |
| Apparatjik - Square Peg In A Round Hole | / |

| Next release | Menu | Back to Main |