---
Grind You Down (04.10.99?)
---
A second promo single was released to Norwegian radio stations at the beginning of October. The cover is white with a colour picture of the band taken from the "Mountains Of Time" CD booklet. Thirteen boxes, printed in a similar fashion to those on the cover of the "Mountains Of Time" album, have been printed on the sleeve so that the picture can only been seen through these boxes.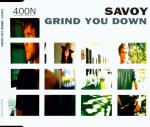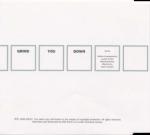 The reverse of the sleeve is white with grey outlines of more boxes. "GRIND", "YOU" and "DOWN" are printed inside the first three boxes with other track information in the fourth.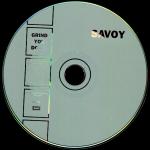 The disc is a green / grey colour, very similar to the "Mountains Of Time" album disc with silver box outlines and text down the left hand side and Savoy at the top right.
Some copies of the single come with a sticker which reads: Savoy "Grind You Down" Ny single fra "Mountains Of Time&quotl (kun promo, ikke for salg). Første single "Star" nådde 2. plass på Hit 40.no-lista - vi har minst like høye målsettinger for "Grind You Down"! Forvent flere svæææære TV-opptredener med Savoy i tiden fremover!!! EMI 28.07.1999.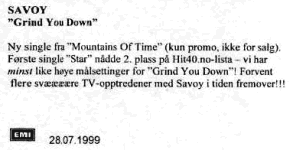 CD-Single
| | | | | |
| --- | --- | --- | --- | --- |
| Norway | promo | Grind You Down | EMI | savoypromo-0199 |

| Next Single | Albums | Menu | Back to Main |