---
Road Club (08.1988)
---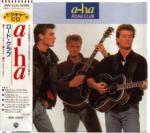 The cover of this Japanese only mini album has a group studio picture with a yellow and pink title logo on a blue background. The CD insert folds out with the lyrics, and individual pictures of the 3 band members (Magne being on the back of the insert). The CD comes with a white obi strip with red, blue and black text.
The CD features a group shot as found on the UK 12" picture disc of "The Blood That Moves The Body".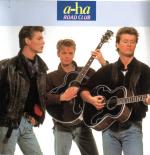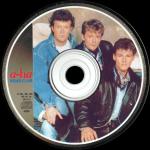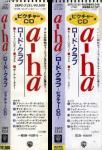 There are 2 slightly different obi-strips for this mini Japanese album. The differences are very subtle - one has three lines of text at the top of the obi, whilst the other has two. The one with 3 lines of text has 2 different prices printed at the bottom of the spine, the other has just one price. Otherwise these releases seem to be exactly the same with same catalogue numbers.
Tracks:The Blood That Moves The Body (Extended Version) (5:26) / Take On Me (Extended Version) (4:51) / Stay On These Roads (Extended Version) (6:14) / Hunting High And Low (Extended Remix) (6:03) / Soft Rains Of April (Original Mix) (3:15)
CD
| | | |
| --- | --- | --- |
| Japan | Road Club | 25P2-2131 |

| On Tour In Brazil | List of Albums | Menu | Back to Main |