---
The Selections '85-'93 (1993)
---
This compilation `best of' CD was released in Japan as a radio promo only CD. The cover features the black and white band shot (Magne, Morten and Pål) which can be found on the centre pages of the "Memorial Beach" CD booklet. The `glowing' a-ha logo is placed above this picture and the title is printed on a white background at the bottom of the sleeve.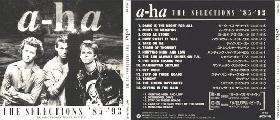 The reverse of the sleeve is black with the track listing printed in white text. The title, in white letters, is printed across the top of the sleeve.
This CD does not come with an obi strip.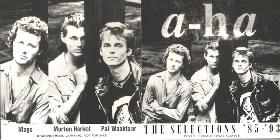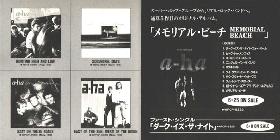 Tracks: Dark Is The Night / Move To Memphis / Cold As Stone / How Sweet It Was / Take On Me / Train Of Thought / Hunting High And Low / The Sun Always Shines On TV / I've Been Losing You / Manhattan Skyline / Cry Wolf / Stay On These Roads / Touchy! / The Living Daylights / Crying In The Rain.
CD
| | | | |
| --- | --- | --- | --- |
| Japan | promo | The Selections '85-'93 | PCS-116 |

| Minor Earth | Major Sky | List of Albums | Menu | Back to Main |