Magne composed the original score and supervised recordings of other music for the film "Beatles" produced by Norwegian production company Storm Rosenberg. The soundtrack album has 17 tracks (13 instrumental) and features original music composed by Magne. It includes "Come Together" by Apparatjik (featuring Icona Pop and Erik Hassle), "Et Kyss Til" by Hvitmalt Gjerde, "Sukker Og Salt" by Rosenberg Allstars and "Yesterday" by Magne.
This is a digital download onyl release. The cover artwork is white with "magne furuholmen" printed in black letters at the top and 4 men dressed in suits jumping in the air below. At the bottom "Beatles" is printed in large black letters with "MUSIKK FRA FILMEN" in smaller black letters below. A woman wearing a yellow dress appears to be leaning against the B of the word "Beatles".
The album was released on CD (7 September) and LP (5 October) under the title "Yesterday" in Japan.
The CD cover is similar to the download edition, but with the title "Yesterday" and the lady in the yellow dress leaning against the d.

The cover of the LP features a shot of four people alking across a zebra crossing in a street. The back cover features a large black and white "live" shot (top), a large coloured shot taken outside a venue (bottom) and 4 smaller shots (across the middle), presumably taken from the film. The track list is printed in white just above the small pictures. It comes with a full-sized white paper insert with track information, a small black and white shot of 4 people jumping (top left) and a shot of the 4 riding away from the camera on bikes (bottom right). The disc labels are green with a black silhouette of the 4 people jumping and other titles in black. The LP comes with a green obi-strip with a small picture of the 4 people jumping at the top and titles in white and yellow.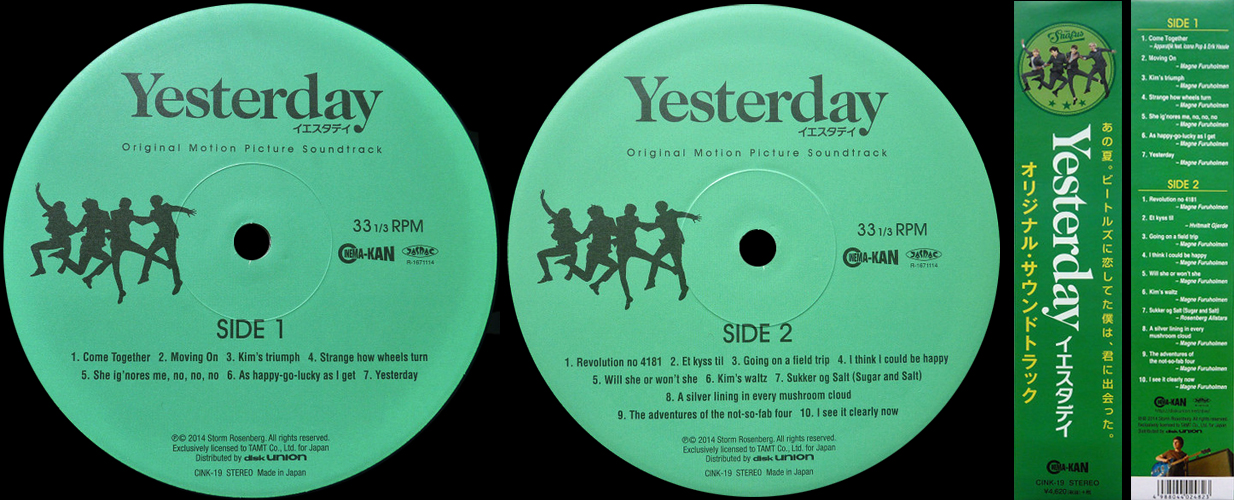 Tracks: Come Together (4:01) / Moving On (1:49) / Kim's Triumph (4:36) / Strange How Wheels Turn (0:39) / She Ig'nores Me, No, No, No (5:25) / As Happy-Go-Lucky As I Get (2:19) / Yesterday (2:21) / Revolution No 4181 (1:42) / Et Kyss Til (2:49) / Going On A Field Trip (1:41) / I Think I Could Be Happy (2:12) / Will She Or Won't She (1:18) / Kim's Waltz (2:16) / Sukker Og Salt (3:43) / A Silver Lining In Every Mushroom Cloud (1:00) / The Adventures Of The Not-So-Fab-Four (2:26) / I See It Clearly Now (1:45)
Download
| | | |
| --- | --- | --- |
| Magne Furuholmen | Beatles | / |
CD
| | | | |
| --- | --- | --- | --- |
| Magne Furuholmen | Japan | Yesterday | |
LP
| | | | | |
| --- | --- | --- | --- | --- |
| Magne Furuholmen | Cinema-Kan | Japan | Yesterday | CINK-19 |

| Next release | Menu | Back to Main |